1. Bike, walk or run on the Sugar Creek Greenway : Start at the Metropolitan and make your way down to Freedom Park. Take advantage of Charlotte's bike sharing program, too. The bikes have a large basket, perfect to fit an afternoon picnic!
2.Take a trip to the Carolinas Aviation Museum : Check out the wide array of planes and choppers, equipment and gadgets. Most notably, you'll be able to see US Airways Flight 1549, the "Miracle on the Hudson" plane flown by Captain Sully Sullenberg .
3. Explore nature at the Daniel Stowe Botanical Garden : Visit the local gardens at Daniel Stowe, and check out year-round beauty! With 380 acres of beautiful plants and land, HGTV has named this local spot one of the US's "20 Great Gardens!"
4. Have an Olympic experience at the U.S. National Whitewater Center : Whether you like rafting, paddle boarding, ziplining, walking trails or listening to live music, the USNWC has it all! Visit any time of the year for a fabulous, fun experience!
5. Brush up on history at the Levine Museum of the New South : Learn about the South's rich, diverse history from the Civil War through today at this incredible Uptown Charlotte museum. Take the family for a full educational, interactive experience!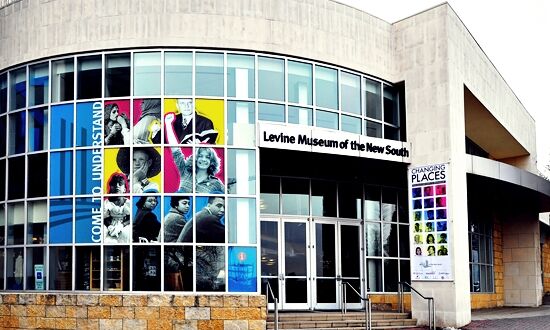 6. Hike your way up Crowder's Mountain : Just about an hour outside of Charlotte, Crowder's Mountain State Park offers incredible hiking and spectacular views of the Queen City. With varying difficulties and mileage, Crowder's Mountain has trails for all!
7. Wind your way through Charlotte on a Brewery Tour : Charlotte's brewery scene is booming, and there is no time like the present to check it out! From Olde Mecklenburg Brewery to Birdsong to Legion, and all those in between, Charlotte has a beer for anyone (over 21!). Just be sure to download the Uber app before heading out!
8. Shop and eat local at 7th Street Public Market : Explore the 7th Street Market to find a variety of local artisans, farmers and craftsmen selling delicious, affordable food every day of the week! Shop local, support local!
9. Take in the 21st Annual Charlotte St. Patrick's Day Parade : Marching through the streets of Uptown, enjoy the Charlotte St. Patty's Day parade whether you're Irish or not! Enjoy native dancing, loads of street vendors and copious amounts of green beer! Don't forget to bring the kids (and dogs!) as they are activities for all!
10. Test your driving skills at the NASCAR Hall of Fame : Charlotte is the proud home of the NASCAR Hall of Fame, open since Spring of 2010, and filled with 150,000 square feet of NASCAR memorabilia and facts. From exhibits honoring the greats in the sport, to becoming a great yourself in the simulator, the Hall of Fame has something for everyone!
11. Check out the Charlotte Symphony at Summer Pops in the Park : Every Sunday in June, plus near the Fourth of July, the Charlotte Symphony rocks out at Symphony Park at Southpark! Grab a picnic basket and some friends (and a bottle of wine!), and post up to listen to the beautiful tunes of local artists!
12. Dine out during Charlotte Restaurant Week : Participate in Charlotte's biannual restaurant week, Queen's Fest! In January and July, participating restaurants come together and allow diners to enjoy a three course meal experience for just $30 – $35 each. A great opportunity to indulge in fine dining, without breaking the bank!
13. Cheer on our local teams – PanthersPanthers, Hornets, Knights, Checkers & Hounds! : Charlotte's sport scene is incredible, and we are the proud home of NFL & NBA teams, as well as minor league baseball & hockey, and professional lacrosse! Share your Charlotte pride by rooting on the athletes who call the Queen City home!
14. Visit nearby Lakes Wylie & Norman : Few cities can say they are nestled right between two beautiful lakes, but Charlotte can! Whether you head south to Lake Wylie or north to Lake Norman, take a visit and enjoy the serenity of these beautiful waters!
15. Shop till you drop – and save – at the local outlet malls, Concord Mills & Charlotte Premium Outlets : Who doesn't love a good shopping trip? And, who doesn't love to save a pretty penny? Whether you're off to Concord Mills or the Charlotte Premium Outlets, savor (and save!) in your shopping adventures at a multitude of fabulous stores.
16. Visit the Southern Shows  of Charlotte – the Southern Home & Garden Show, Southern Women's Show, Southern Christmas Show, etc. : Charlotte is lucky enough to each year host a variety of "Southern Shows."  From the Southern Home & Garden Show to begin the year in February, and the Southern Christmas Show to close the year in November, find an abundance of treasures and handmade treats from a host of unique vendors!
17. Fill your belly at Food Truck Friday : Food trucks have become a hot trend as of late, and Charlotte proudly hosts a weekly food truck festival in Plaza Midwood. Enjoy inspired, local eats in a fun, social setting!
Whatever you take part in this year, we hope you enjoy a 2017 filled with happiness and joy!